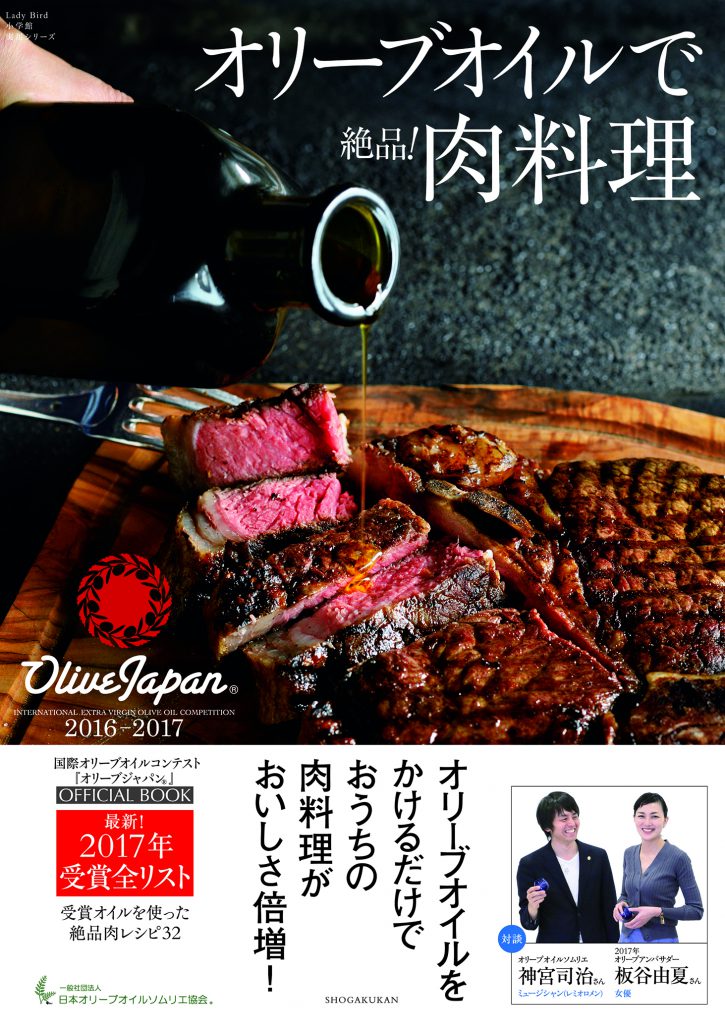 The Olive Oil Sommelier Association of Japan will publish its annual official book of OLIVE JAPAN® 2016-2017 on June 29th, 2017.
This is the second annual book of OLIVE JAPAN®, and especillay featured olive oil cooking with meat cuisine.
It is the yearbook of OLIVE JAPAN® International Olive Oil Competition, therefore the important part of the book is, the winners list, but not only for this, this book most concentrates in the cooking recipe promotion towards consumers.
How olive oil cooking is so easy and delicuous ?
This is the key agenda of the book and,
Cooking with award winning excellent extra virgin olive oil !
This is really marvellous.
Enjoy 32 recipes developed by the Olive Oil Sommelier chefs with 16 OLIVE JAPAN award winning olive oil.
The book detail;
Title;  Wonderful meat cooking with extra virgin olive oil 「オリーブオイルで絶品!肉料理」
Author;  The Olive Oil Sommelier Asssociation of JAPAN (OSAJ)
Publisher;  Shogakukan
Publish Date;   June 29, 2017
ISBN-10; 4091038794
ISBN-13; 978-4091038791
Pages;  96
Price;  1,200 Yen plus tax