OLIVE JAPAN 2016 had Total 600 Entries from 21 countries around the world.
After 3 days serious and enjoyable judge sessions, we have decided to awards,
11 PREMIER MEDALS to super excellent wonderful olive oil,
213 GOLD MEDALS to splendid excellent olive oil, and
196 SILVER MEDALS to beautiful made olive oil.
The MEDALS by countries shown below table.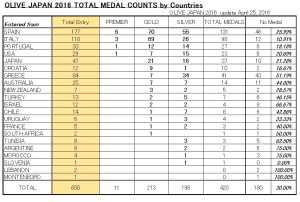 Detail WINNERS LIST, you can download EXCEL Files from here:
PREMIER WINNERS LIST:  OLIVE JAPAN 2016 PREMIER Winners ENG 20160426P
GOLD WINNERS LIST:          OLIVE JAPAN 2016 GOLD Winners ENG 20160510P
SILVER WINNERS LIST:       OLIVE JAPAN 2016 SILVER Winners ENG 20160514P
All the results became final as of May 14, 2016.