OLIVE JAPAN® SHOW 2022
The Organizer – OSAJ is now under planning OLIVE JAPAN SHOW 2022.
It is very unique and outstanding event to promote olive oil and olive oil business in Japan.
Over 150,000 Consumers are attended in the past OLIVE JAPAN SHOW.
The detail information for 2022 event will be post in March 2022.
Information about the past OLIVE JAPAN® SHOW
OLIVE JAPAN SHOW 2019 / OLIVE MARKET in SEIBU DEPARTMENT STORE IKEBUKURO
July 19th (Thu.), 2019:    10:00 –  21:00
July 20th (Fri.), 2019:    10:00 –  21:00
July 21st (Sat.), 2019:    10:00 – 21:00
July 22nd (Sun), 2019:    10:00 –  20:00
July 23rd (Mon.), 2019:    10:00 –  21:00
July 24th (Tue.), 2019:    10:00 – 16:00
Venue; SEIBU Department Store IKEBUKURO Flagship store 7 F Special Event Hall
In OLIVE JAPAN SHOW 2018,
60 Brands 130 Awarded Olive Oil will be sold / displayed == Brand List, pleass click here download the list ! → OLIVE JAPAN SHOW 2018 Brand List JPN
The List of Exhibitors (displayed/sold products origin) in  OLIVE JAPAN SHOW 2018 edition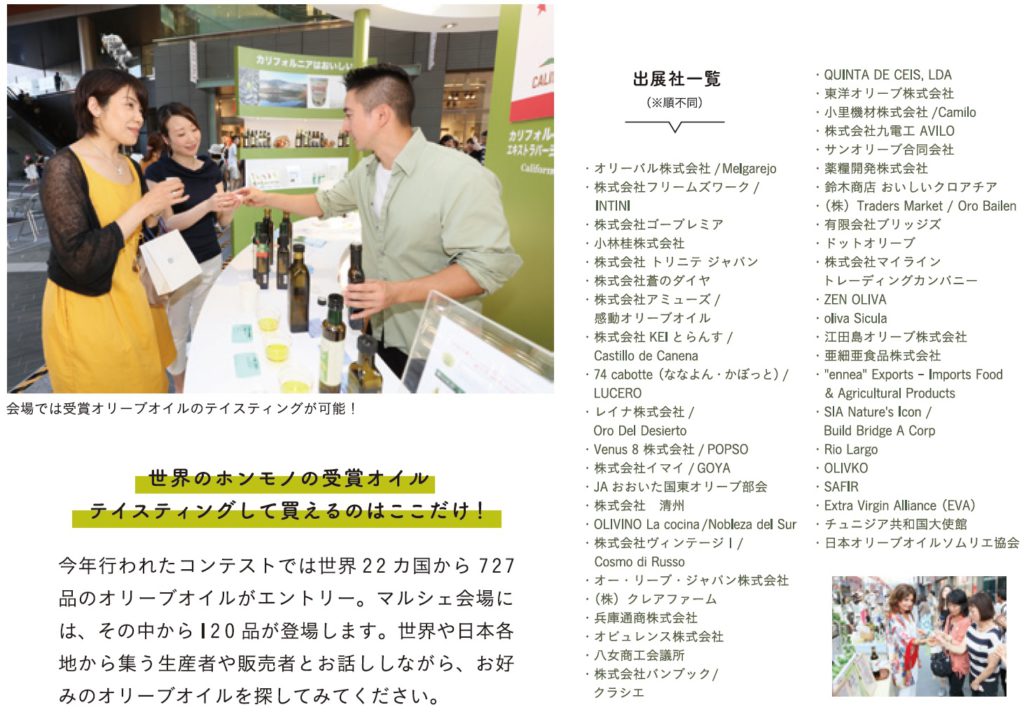 AVILO – Kyudenko (Japan, Italy, Portugal)
Castillo de Canena – Olive Oil Select Shop Grancier (Spain)
Zottoperra by Yakuryo Kaihatsu "Biocle" (Italy)
Camilo Australia by Kozato Kizai (Australia)
Melgarejo by Olival (Spain)
Oro Bailen by Traders Market (Spain)
Terre di Pantaleo – Oliva Sicula (Italy)
Tenuta Chiaramonte – Oliva Sicula (Italy)
Oleo Estepa by K Kobayashi (Spain)
Venus 8  (Japan)
Oro del Desierto by Reina (Spain)
Vieiru by Go Premiere (Spain)
Giacomo Grassi by Go Premier (Italy)
GOYA by Imai (Spain)
Monterosa by K Kobayashi (Portugal)
Aceites EL DORADO by Amuse (Spain)
Olio di DIEVOLE by Amuse (Italy)
IL MOLINO by Amuse (Italy)
Castro de Profumi by Bioisshimo (Italy)
Nobreza del Sur by Olivino la Cocina (Spain)
Shogakukan (Book Sales)
OLEA B.B. by delicious Croatia (Croatia)
OPG Chiavalon by delicious Croatia (Croatia)
Embassy of Tunisia (Tunisia)
LUCERO OLIVE OIL by 74 cabotte (USA)
Frantoio Grove by Amuse (USA)
Toyo Olive (Japan)
Aono Diamond (Japan)
Sun Olive (Japan)
Telegraph Hill by O LIV JAPAN (New Zealand)
AMARO by Amuse (Portugal)
INTINI by Fleemswork (Italy)
Cosmo di Russo by Vintage 1 (Italy)
Palacio Marques de Viana by Hyogo Tsusho (Spain)
Aceite Artajo (Spain)
Zen Oliva by Kaminari Consulting (Spain)
Marialva by K Kobayashi (Portugal)
OLIVNA by My Line Trading (Tunisia)
Tripomphe by My Line Trading (Tunisia)
SAFIR (Tunisia)
OLIVKO (Tunisia)
Doleon by SIA-Build Bridge A (Greece)
ennea (Greece)
MIMI by Bridges (Italy)
Frisino by Bridges (Italy)
Longridge Farm by Crea Farm (Australia)
Profumi di Castro by Opulence (Italy)
Iemolo by Yakuryo Kaihatsu (Italy)
Paola Orsini by dotto olive (Italy)
Olio Villa Pontina (Italy)
La Poderina by Torinite Japan (Italy)
Massimo Mosconi by Asia Shokuhin (Italy)
Azienda Agricola Centonze by Asia Shokuhin (Italy)
CREA Farm (Japan)
Etajima Olive (Japan)
JA Oita Kunisaki (Japan)
Yame Chamber of Commerce (Japan)
CARM by Kyudenko (Portugal)
QUINTA DE CEIS (Portugal)
Ecologica de la Rioja by Kiyosu (Spain)
Finca las Manillas by O Liv Japan (Spain)
The Olive Oil Sommelier Association of JAPAN, an Organizer booth
2015 Olive Marche photo Gallery