OLIVE JAPAN® 2021 ONLINE REGISTRATION Started !
ENTRY period;                      November 25, 2020 – May 7, 2021 (Judging session: May 17 – 19, 2021 in Tokyo)
Winners Announcement;    May 25, 2021
Results Feedback starts;      May 27, 2021
How to register ?   –   ONLINE registration form here→   EURO Entry   /   US$ Entry
Entry Fee(EURO);                 230 EURO per product
Entry Fee(US$);                     260 US Dollar per product
How many samples needed ?  –   See the detail below;
100ml – 150ml bottle (or tin) == 7 bottles (or tin)
200ml – 250ml bottle (or tin) == 5 bottles (or tin)
375ml – 500ml bottle (or tin) == 3 bottles (or tin)
over 750ml bottle (or tin) ==  2 bottles (or tin)
*All the samples should be properly labeled with the brand name, product name and quantity contents.
OLIVE JAPAN® 2020 Results
OLIVE JAPAN® 2020 judged 700 Extra Virgins from 23 countries with 20 Japanese Judges and tasters by June 4.
9 Olive Oils are awarded BEST OF SHOW 2020, 284 GOLD Medals and 277 SILVER Medals are awarded.
The Winners List is available by  EXCEL  format files as you can download from this page.
Below link is OLIVE JAPAN 2020 winners    (Last update;  June 25th)
OJ2020 9-PREMIER-Winners-BEST-of-SHOW-ENG-0610
OJ2020 20-SPECIAL-AWARD-Winners-List-ENG 0625
OJ2020 284-GOLD-Winners-ENG 0625
OJ2020 277-SILVER-Winners-ENG 0625
There is no BRONZE,  no DOUBLE GOLD , nor PLATINUM Medals in OLIVE JAPAN®.
Awarded MEDALs by Country is below;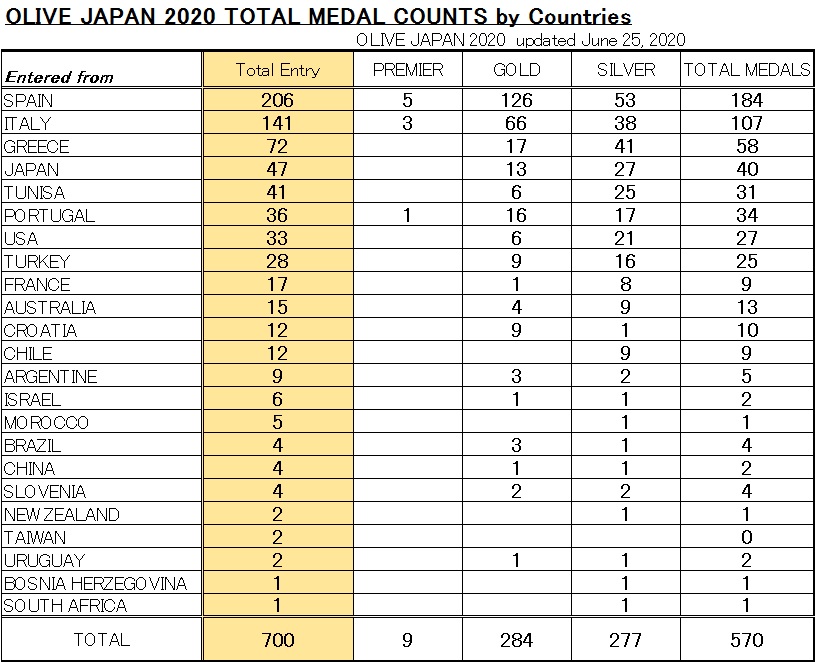 OLIVE JAPAN® 2020 PREMIER MEDAL WINNER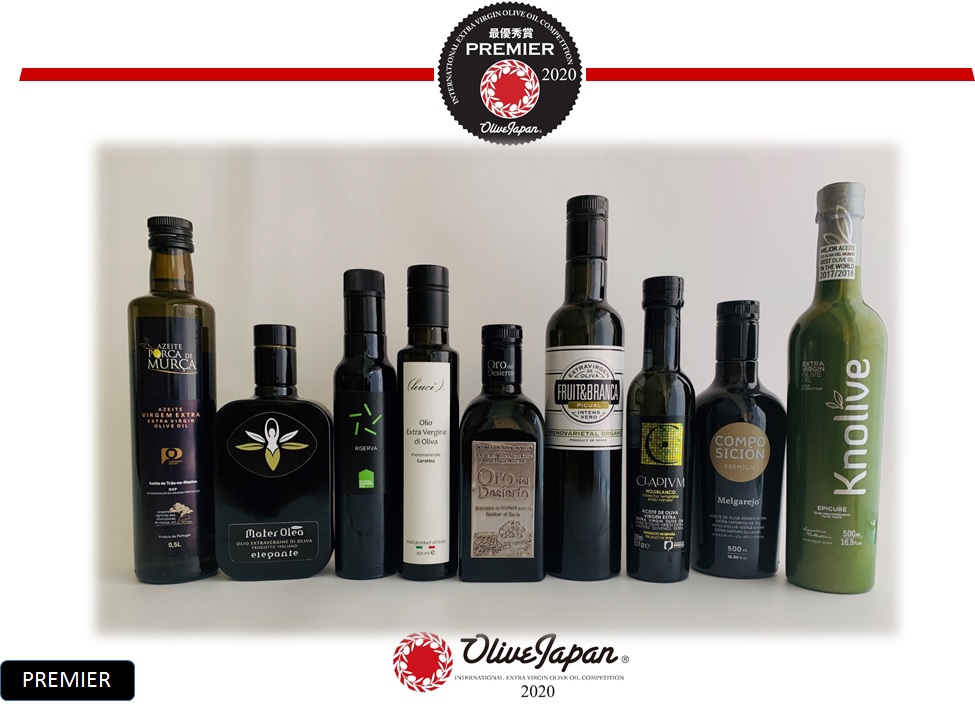 OLIVE JAPAN® 2020 PREMIER (Best of SHOW) Winners
Toshiya Tada Special Olive Oil Sommelier Award (The second Best of Show)
BEST OLIVE OIL by Countries
BEST FLAVORED (Infused) OLIVE OIL
OLIVE JAPAN International Olive Oil Competition 2021 edition
ONLINE Registration will start on NOVEMBER 25, 2020 on this website.
OLIVE JAPAN International Extra Virgin Olive Oil Competition is one of the premier olive oil competitions in the world, bringing together the highest standards of integrity and professionalism in awarding medals to the best oils from around the globe.
This is the tenth year of OLIVE JAPAN International Competition, Japan as the one of the most important market for olive oil in the world. The judges are invited from key major olive oil production countries and Japan, under recommendation by the Olive Oil Sommelier Association of Japan. (OSAJ)
This Competition was held as a key program in the "OLIVE JAPAN 2021" and PREMIER and other Awards winners will be prized at the main event of the OLIVE JAPAN SHOW in mid July, and will be carried by major papers and trade magazines. The competition is committed to educating the public about extra virgin olive oil, featuring industry experts with extensive knowledge about selection, tasting and food pairings.
OLIVE JAPAN International Extra Virgin Olive Oil Competition and its panel of tasters invite you to participate in the tenth annual competition open to extra virgin olive oils and flavored olive oils throughout the world. In the 2020 Competition, OLIVE JAPAN had total 700 olive oil submitted from 23 countries and 570 extra virgins got awarded.






OLIVE JAPAN International Extra Virgin Olive Oil Competition 2021