Introduce Your Olive Products to Japanese Market
The detail information for exhibition at the OLIVE MARCHE, please see the attached Exhibitor's Information and Application(PDF).
OLIVE JAPAN 2017 Exhibitors Registration will start early in May, 2017.
For more detail, please earn the information from OLIVE MARCHE EXHIBITOR'S GUIDANCE linked below.
Please note, the Registration closed already since all the spaces both in Zone A and Zone B completely sold out.  Thank you for many registrations !
How to apply Olive Marche Exhibition
Input your information to OLIVE MARCHE / Booth ENTRY Form.
Save the PDF file with your company name, like  "YOUR_COMPANY_NAME .pdf".
Send the PDF file to Olive Japan office.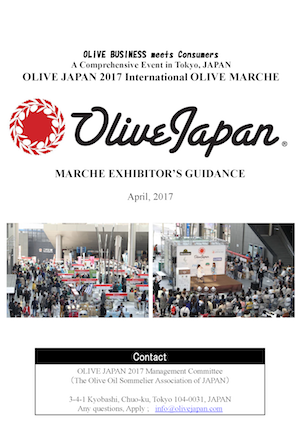 How to fill out the Olive Marche entry form
The entry form is Formed PDF file, enabled to input your information directly.
Violet colored fields must be filled.
DO NOT FORGET to save the file on your local PC.
You need to save the file with your company name as "YOUR_COMPANY_NAME.pdf"
If it isn't convenient for you to use Formed PDF file, Please print out and fill out it. After finished, send the file to Olive Japan via email.
If you write by hand, please make sure to be written in bold.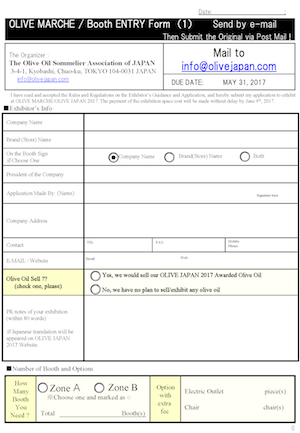 Downloads
OLIVE MARCHMARCHE EXHIBITOR'S GUIDANCE
OLIVE MARCHE / Booth ENTRY Form